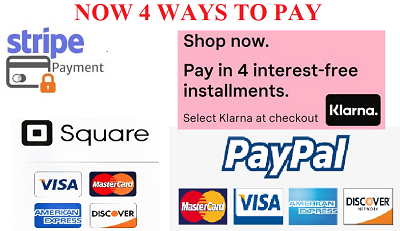 January 3, 2023: Our 10th ANNIVERSARY is here! 10 years ago, we decided to embark on the beautiful journey that brought us to where we are today. Get your $10 deals now through the end of January!! Click here to shop.
November 24, 2022: If you're local to the Cincinnati area and would like to see & smell our M&T Scents items in person, now is your chance! We will be set-up inside Mossie Janes in Miamitown, OH for their Christmas Pop-Up Shopping Event from 12-8pm next Saturday, December 3rd. Mossie Jane's is located at 6818 State Route 128, in downtown Miamitown. We will have many products available, as well as gift sets, boxed and ready to give. Hope to see you there!
October 01, 2022: PUMPKIN SPICE season is upon us once more, starting at just $4.99 each. Also, try our NEW 2022 exclusive scent, PUMPKIN VANILLA Pipe Tobacco for a new & wonderful smelling twist!
July 01, 2022: CHRISTMAS in JULY is here!
November 27, 2021: NEW payment methods! Now 4 easy ways to Pay with Klarna, Stripe PayPal & Square!
September 17, 2021: PUMPKIN SPICE season is here! Get yours today.
May 30, 2021: Our new LUTALIA Beauty Collection is live with New Artisan Soaps, Facial Serum & Moisturizer, Perfume, Body Polish, Bath Bubbles & MORE
January 1, 2021: HAPPY NEW YEAR!! It's TIME to clear some INVENTORY! Check out our inventory reduction sale.
December 11, 2020: Our HOLIDAY SALE begins! Our lowest price EVER for select room & clothing sprays.
August 29, 2020: We've added 2 new products to our line-up! We now have Roll-On Oils in Aromatherapy Versions AND Perfumes.
July 01, 2020: Summer is HERE! Plan ahead for those pesky mosquitoes & get your bottle of "Skeeter Beater", our All Natural, Chemical FREE Mosquito spray. Works great with no chemicals needed! Click here to check it out!